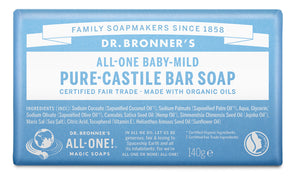 Baby-Mild - Pure-Castile Bar Soap
Gentle! Effective! Mild! The goodness of our liquid soaps in a bar!
---
With no added fragrance and double the olive oil, our Baby Unscented Pure-Castile Bar Soap is good for sensitive skin & babies too (though not tear-free!). Dr. Bronner's Bar Soap is made with certified fair trade ingredients and organic hemp oil for a soft, smooth lather that won't dry your skin. 100% biodegradable in a 100% post-consumer recycled wrapper.
Suggested Uses

Dr. Bronner's Pure-Castile Bar Soaps are biodegradable-vegan, gentle and versatile, good for washing body, face or hair! Enjoy only 2 cosmetics, enough sleep & Dr. Bronner's Magic Soaps to clean-body-mind-soul-spirit instantly uniting One! All-One!!
Ingredients
Organic Coconut Oil*, Organic Palm Oil*, Sodium Hydroxide**, Water, Organic Olive Oil*, Organic Hemp Oil, Organic Jojoba Oil, Sea Salt, Citric Acid, Tocopherol

*CERTIFIED FAIR TRADE INGREDIENTS
**None remains after saponifying oils into soap & glycerin.
 Fair Trade Ingredients

Samoa—reviving the Samoan coconut industry, shifting production to fair trade, organic principles—helping Samoan farmers to improve land & diversify.  
In honor of our Jewish ancestry and commitment to promoting peaceful coexistence, our organic olive oil is supplied by farmers in both Palestine and Israel.
We've partnered with Natural Habitats to obtain fair trade & organic palm kernel oil from Ecuador, where family farmers grow oil palms sustainably, receive fair prices.